Business Challenge Key Features Business Benefits

As outsourcing increases, companies are ever more dependent on their suppliers to ensure customer success. Yet, companies generally do not have a consistent and mature mechanisms to measure supplier performance through scorecards.
Supplier scorecards tend to cross functional in nature - multiple business functions such as purchasing, engineering, quality, accounts payable and compliance must collaborate with each other and suppliers to define and measure suppliers. As a result, companies face following challenges in measuring supplier performance.
Measurement criteria

: A cross functional scorecard, that defines the various components of scorecard (such as on-time delivery, quality etc) and assigns weights to these components is not defined, hence it is difficult to measure suppliers.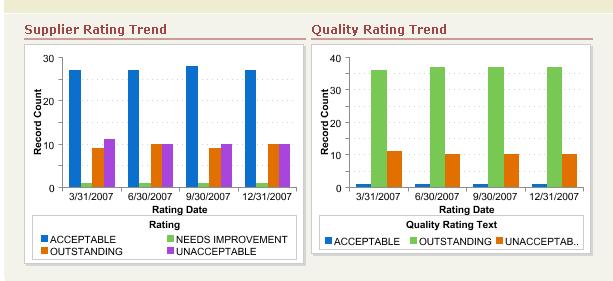 Accurate measurement data: Accurate data for measuring performance - such as quality, on-time delivery and cost reduction programs is scattered in multiple systems and hence is not available.
Cross functional collaboration: Various functional departments do have a central place to collaborate on creating and updating supplier scorecards. Scorecards are managed through offline spreadsheets and e-mails.