Business Challenge Key Features Business Benefits
SupplierSoft provides a comprehensive non-conformance and CAPA/SCAR Management solution that enables companies to streamline their corrective action processes and drive continuous improvements. The system is fully compliant with requirements of 21 CFR Part 11 and enables life science companies and other manufacturers to meet regulatory requirements such as 21 CFR Part 820, 210-211 and industry standards such as ISO 13485 and 9001. The key features of the solution include:
Best practices CAPA/SCAR processes with configurability: The solution provides best practice processes (workflows) for CAPA resolution. Typical steps include problem verification, containment, root cause analysis, corrective and preventive action, solution verification and effectiveness review of the CAPA to prevent recurrence. These best practice workflows can be modified with point-and-click configuration tools.
Drive closed loop corrective and preventive action: Once an issue has been identified along with ownership and due dates for various activities, the system drives the CAPA process to timely completion using configurable e-mail alerts, reminders and escalations. The solution enables the CAPA team members to collaborate on problem resolution. All activity related to CAPA is logged. Search capabilities enable you to quickly search through information on the CAPA and other related CAPAs.
Enforcement of CAPA/SCAR process: The solution provides configurable enforcement mechanisms to ensure that best practice processes are followed, thereby reducing the risk misidentified and mishandled issues. For example, the system can be configured to ensure that root-cause analysis is done before corrective action can be completed.
Root cause analysis: Accurate root cause analysis is critical to identifying effective preventive actions. The system can be configured to define and enforce root-cause analysis processes. For example, checklists of activities that required for complete root-cause analysis can be defined and enforced.
Electronic Material Review Board (MRB): Electronically convene MRBs to assess the impact of an issue and record MRB activities and dispositions.
Scheduled review of effectiveness: The solution helps you schedule effectiveness reviews to ensure that issues have been addressed successfully and do not recur.
Identification of adverse trends: You can monitor adverse trends by establishing a threshold level for repeat occurrence for a specific issue type. The system automatically alerts you when the thresholds are breached, enabling you to proactively identify systemic issues and mitigate risk.
Supplier CAPA (SCAR) management: CAPAs can be assigned to suppliers to drive supplier corrective action (SCAR) issues to closure. Configurable security profiles ensure that suppliers can see and edit only the information relevant to them.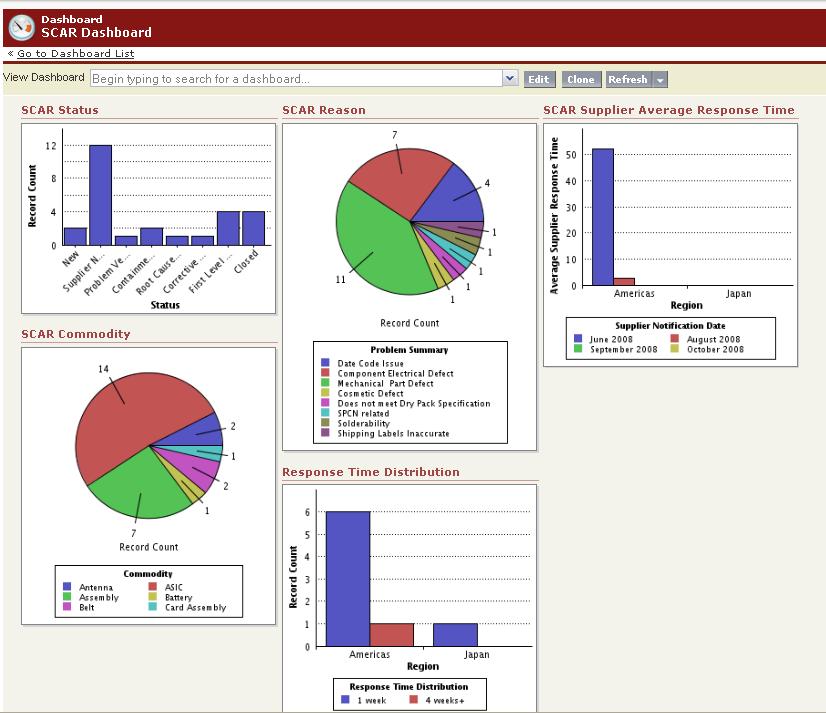 Customer collaboration: Customers can be allowed to initiate a CAPA or participate in the resolution process. Configurable security profiles ensure that customers can see and edit only the information relevant to them.
Configurable dashboards and reports: In addition to standard CAPA dashboards and reports, configurable CAPA dashboards and reports that can be created with a few mouse clicks, enabling business users to proactively identify issues by sifting through CAPA data – all without IT involvement.
Outlook/Notes integration: Full integration with Outlook/Notes ensures that desk top is always in sync with the system. Entire communication history can be searched through, providing visibility into past interactions.
Integrated document management and search: Documents and notes can be attached to supplier specific information. Documents common across all suppliers such as quality and EHS policies can be shared with the suppliers. Integrated searched enables quick access to information.
Compliance with 21 CFR Part 11 requirements: With role-based security, powerful password polices and expirations, and a complete audit trail, SupplierSoft CAPA is fully compliance with 21 CFR Part 11 requirements for electronic records and electronic signatures.
Integrated audits: This add-on module is fully integrated and enables definition and management of quality audits. Audit findings can be converted to CAPA and driven to closed loop closure. Follow-up audits can be scheduled to ensure that CAPA successfully addressed the issue.
State-of-art Integration: Web services based integration capabilities enables rapid integration with ERP, MES and LIMS systems, thereby ensuring enterprise wide consistency and change management.
Ease of use: A Web 2.0 user interface eases adoption across the enterprise.
Global performance: The system has superb performance across all geographies for global organizations.